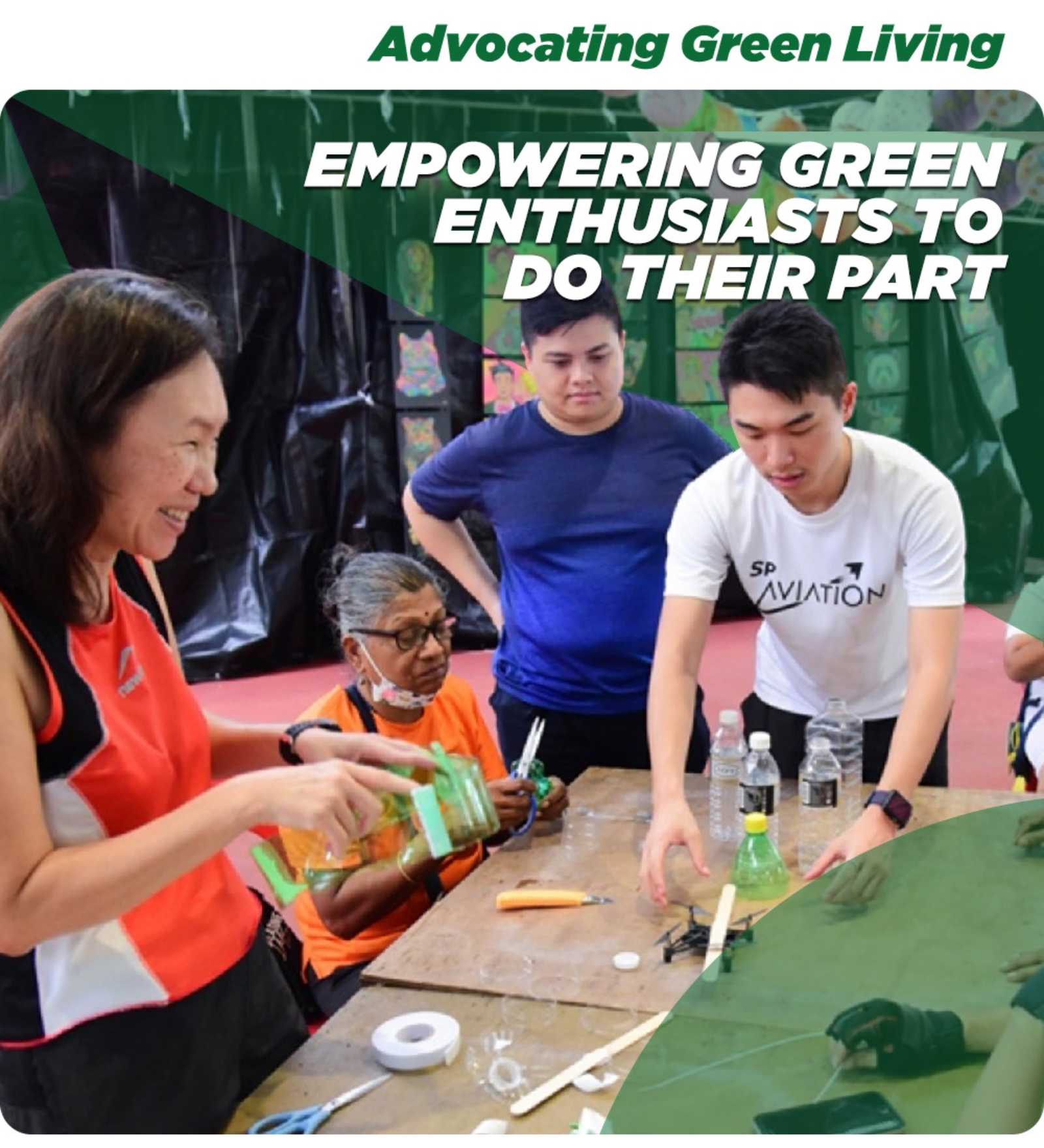 Started in 2009, the North West GIRAFFE Fund has supported ground-up initiatives in their efforts to educate our residents on protecting the environment and the ways to do it. The fund not only turns ideas into life, but also encourages youths and green advocates to be creative in promoting sustainability within the community.
Instilling green habits in the community
We meet individuals and groups with innovative ideas that GIRAFFE Fund is supporting, from a sustainable shopping idea to making eco drones with recyclables.
Eco Drones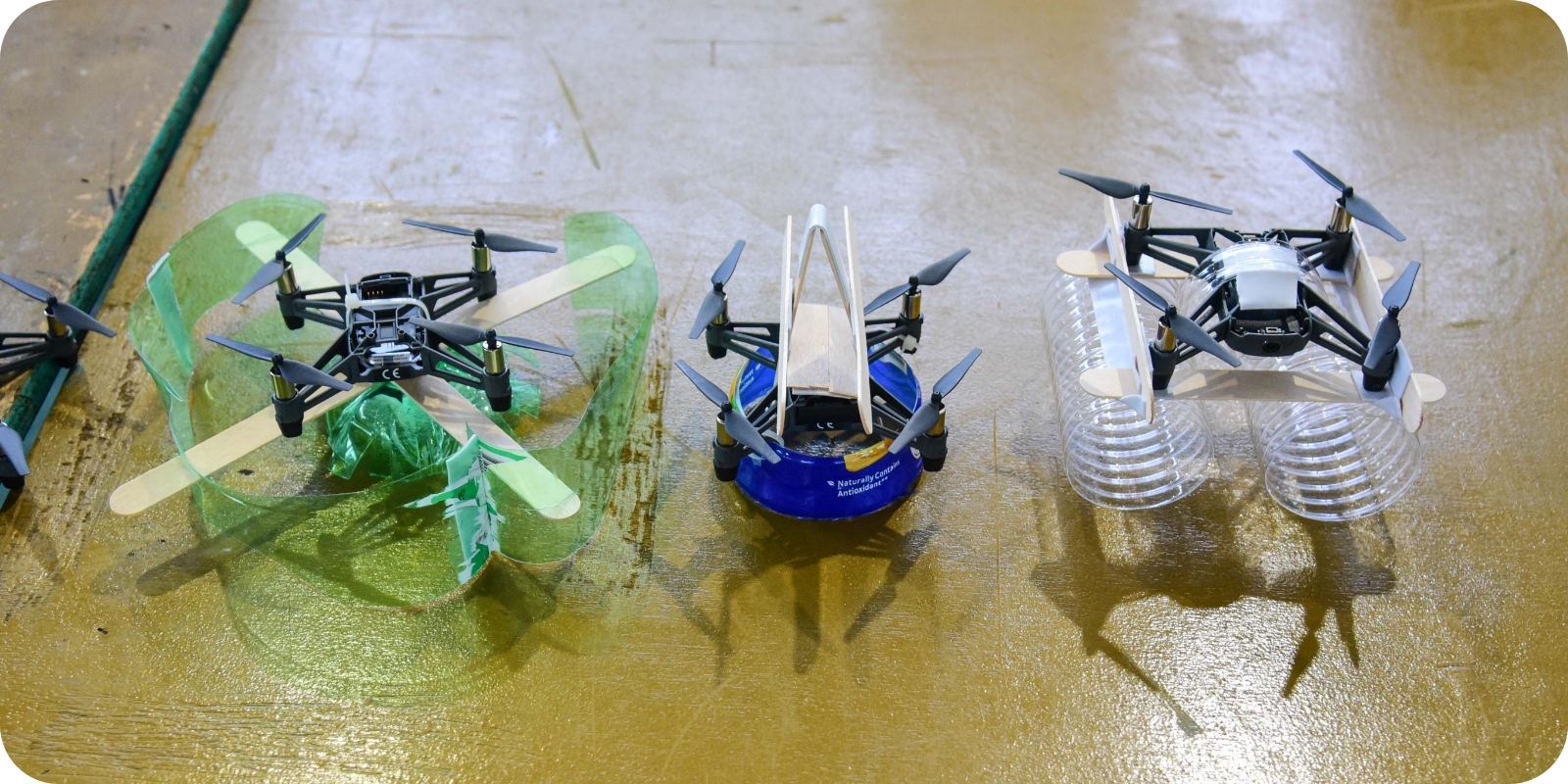 Turning plastic bottles into drones? That's right! A workshop that teaches participants the importance of recycling, through a creative method of turning recycled plastic bottles into drones, were recently conducted at Admiralty Mid-Autumn PAssionArts Festival 2022.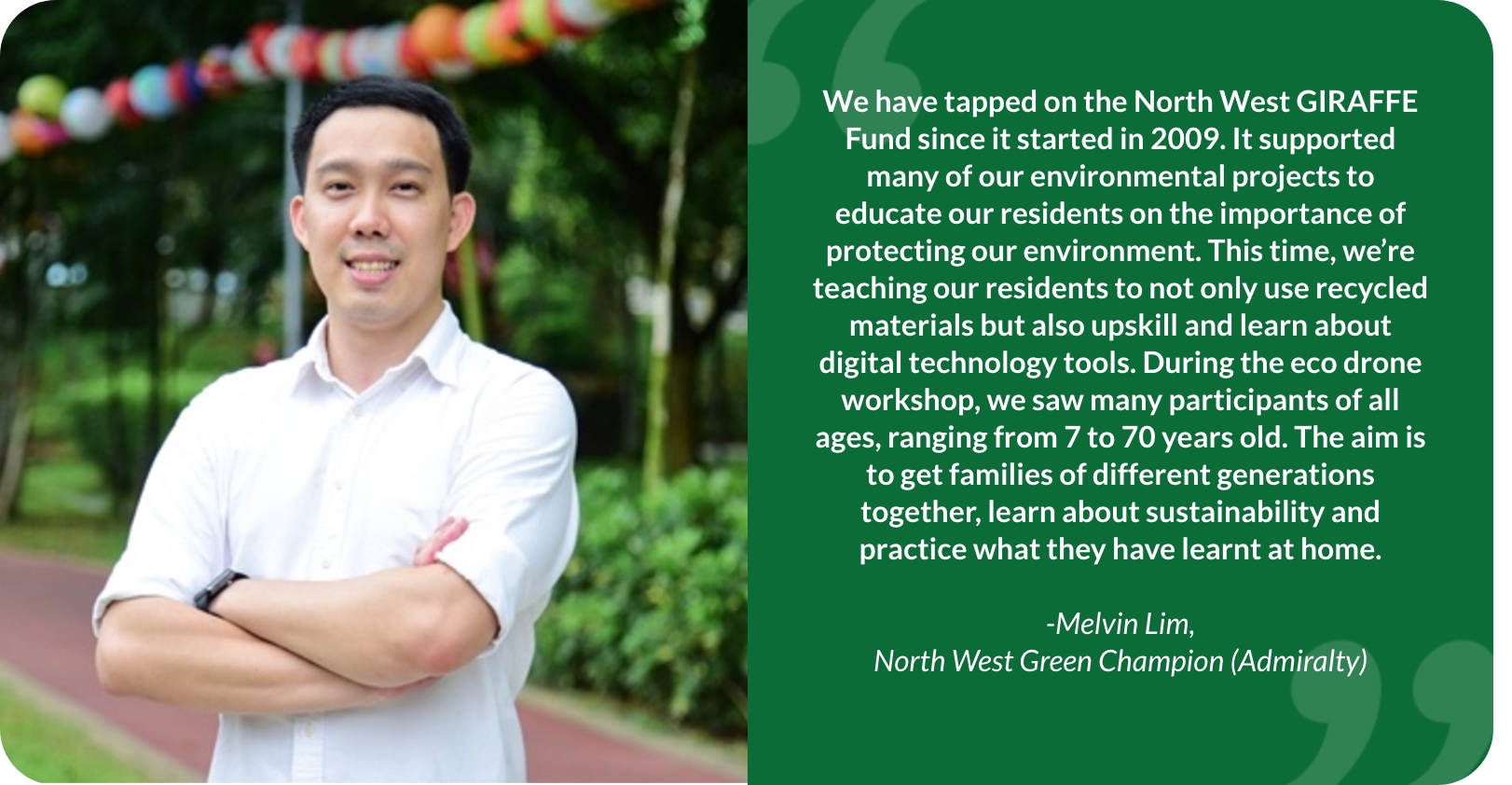 SHWAP for Sustainability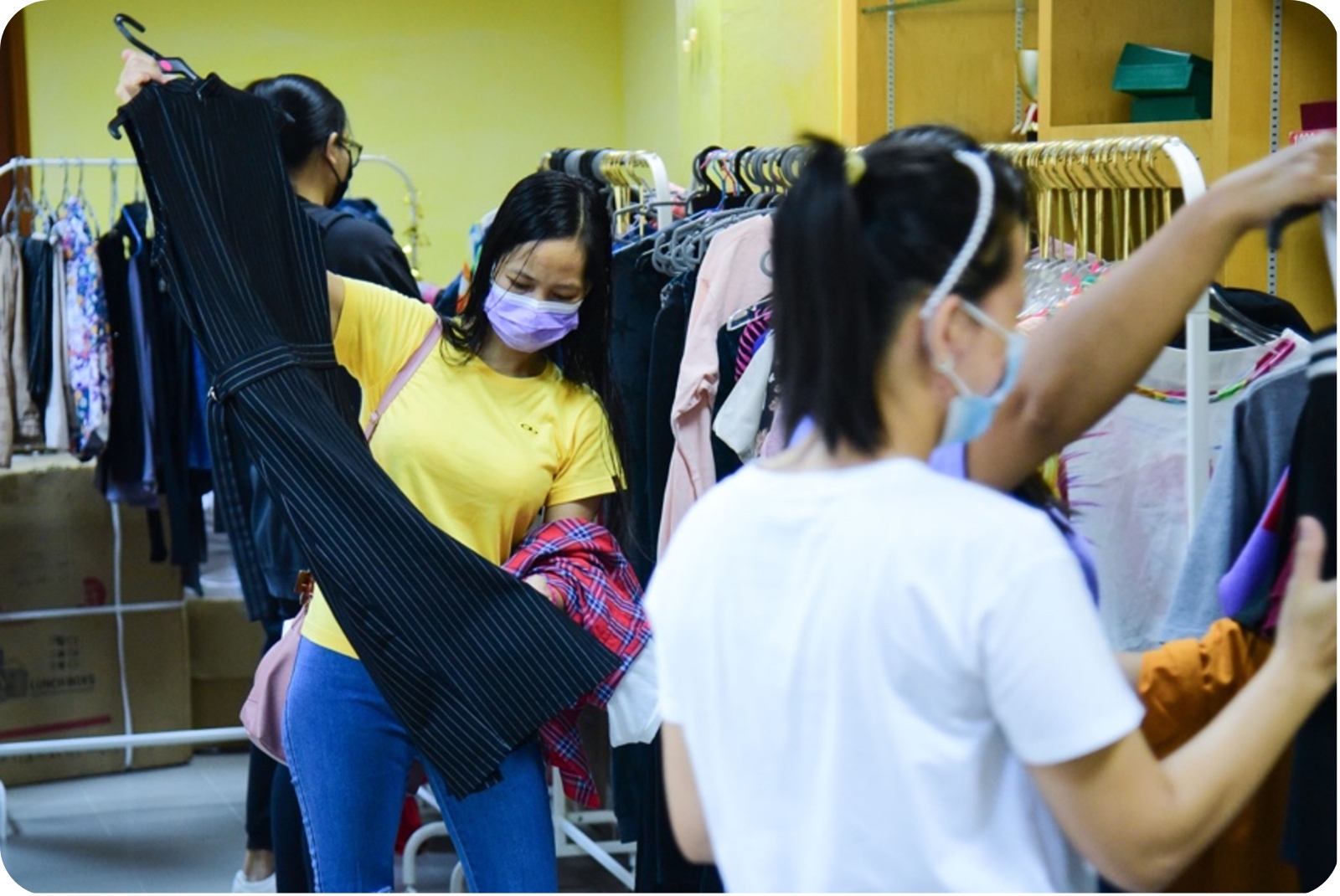 "I have nothing to wear!" is often the first thing that comes into our mind as we stare blankly into a wardrobe filled with clothes. Perhaps you're tired of re-wearing your clothes or just simply fell out of love with a particular style. What better way to update your closet, than by donating and swapping for new clothes? SHWAP for Sustainability, combines the love of shopping with the sustainable idea of swapping clothes, was recently conducted at Nee Soon South. Ran by a team of youth volunteers from Republic Polytechnic, over 1,000 pieces of clothing were collected for the event to promote the idea of eco-shopping and at the same time, help low-income families who can't afford to spend too much on clothes. Now you can shop without feeling guilty about generating extra waste!


Our main motivation in participating in this event was to encourage students and residents to cultivate green habits through reducing textile waste as we encourage sustainable fashion through clothes redistribution events. Reusing clothes will also facilitate a circular economy so as to reduce the volume of waste entering into the landfill.
-Ignacio Dara Janina Jacinto and B. Monisha D/O Vn Balamurugan
President and Secretary of Conservation Interest Group
Republic Polytechnic, Diploma in Environmental and Marine Science
No action is too small, let's get started on green living!
Over the years, the Woodgrove Division has rolled out many green projects to encourage residents to adopt green living. Recently, they launched Terra 2236, a gaming app to educate residents on green practices. They are also working on an innovative vertical farming project involving residents, schools and community at large to get involved and act.
Making sure that no one is left behind on green education, they tapped on interesting ideas and through collaborations with the North West GIRAFFE fund, came up with meaningful projects that would benefit the community.
Ms Hany Soh, Adviser to Marsiling-Yew Tee GRC GROs (Woodgrove) shared that it is important for such projects to resonate with residents to ensure its longevity.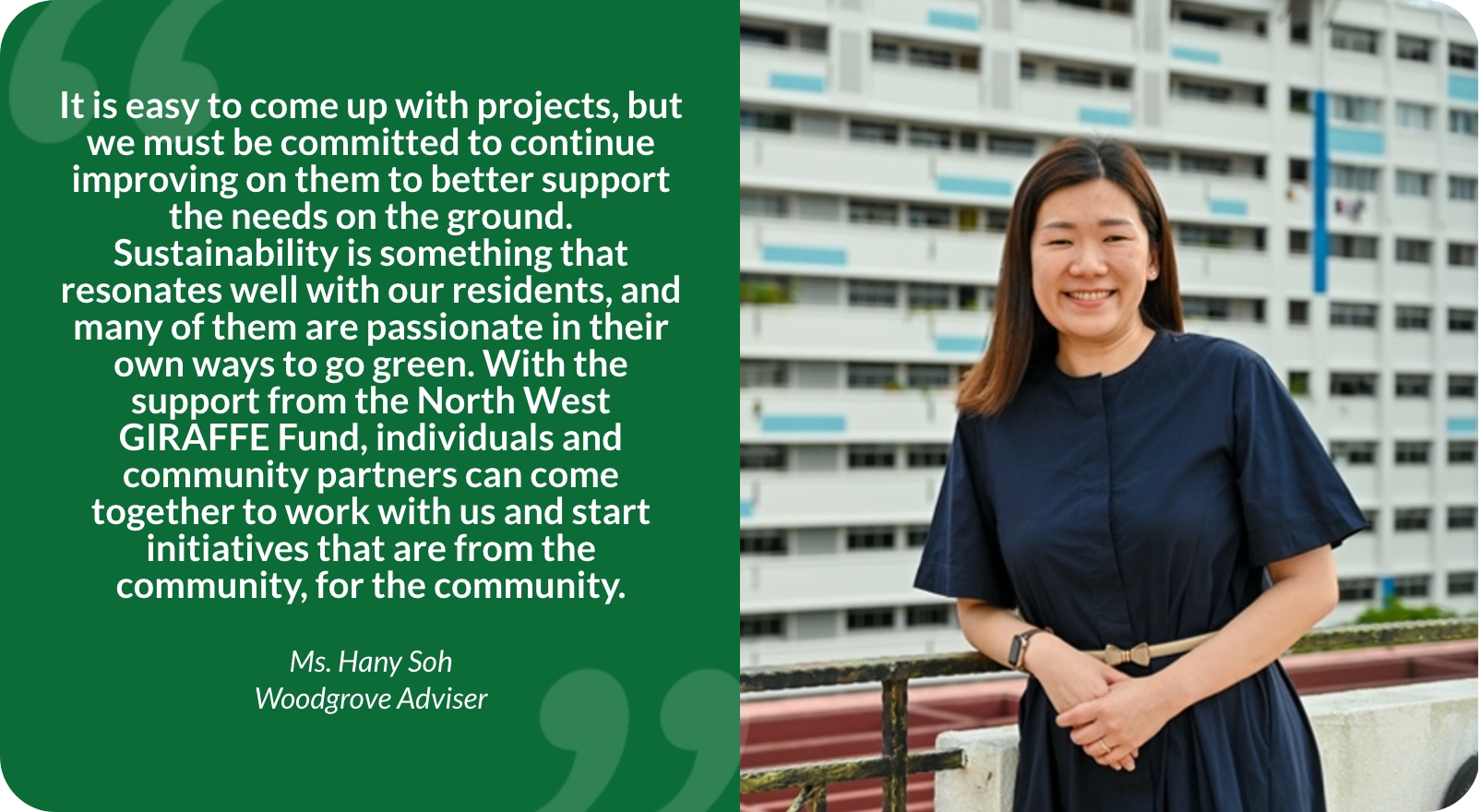 Save the environment - share your ideas with the GIRAFFE Fund
If you are inspired by our stories and have ideas that promote education on green living, the North West GIRAFFE Fund could be your answer to saving our environment. Find out more here.
Our Team
Adviser: Mayor Alex Yam
Editorial Team: Michael Lau, Sim Chuan San, Steve Luo, Eric Liu, Melvin Tai, Charlene Koh
Please send feedback, suggestions and comments to northwest_cdc@pa.gov.sg
Some articles in Cohesion are contributed by volunteers and are not necessarily opinions/comments by North West CDC.
Reproduction in whole or in part is prohibited without prior permission from North West CDC.