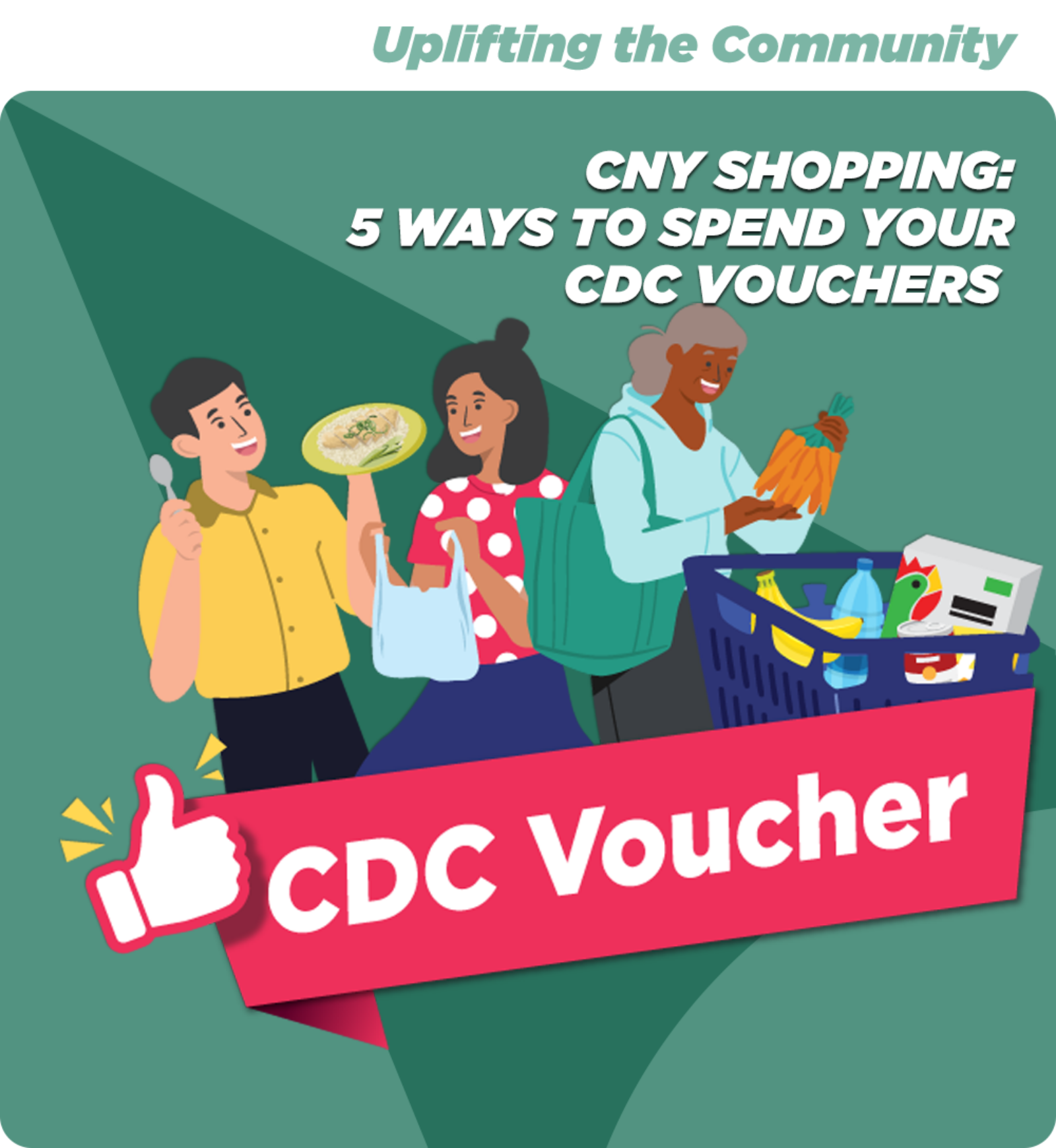 The new tranche of CDC Vouchers has just been announced! All Singaporean households will receive another $300 worth of CDC Vouchers. To widen the choices and provide more convenience to Singaporeans, the scheme has been expanded to include supermarket chains. Singaporeans can now spend $150 at participating supermarkets, on top of the $150 CDC Vouchers that could be spent at participating heartland merchants and hawkers.
CDC vouchers will come in handy as you gear up for CNY festivities. On top of shopping at supermarkets, you can continue to support your favourite local businesses!
From food items to fashion, here's how you can spend your CDC vouchers to usher in the Year of the Rabbit 🐇
Stock up on CNY goodies
Are you looking forward to having mouth-watering pineapple tarts during CNY? Let's not forget other popular goodies such as love letters, kueh bangkit, kueh lapis and peanut cookies too! With the CDC vouchers, you can stock up on your favourite treats and buy more for gifting.
Anna's Cookies
Blk 20 Ghim Moh Rd, #01-98/99, Singapore 270020
KZ Bakery
Sembawang Crescent, #01-09, S750365
The Baker's Brothers
Canberra Crescent, #01-02, S750120
Snack & Cake Shop
18 Marsiling Ln, #01-271, S730018
Swee Heng Bakery (SHB09)
Canberra Road, #01-07, S750511
Prepare for the reunion dinner
Planning the menu for your reunion dinner this year? You can add more ingredients to your grocery list and make the most out of your budget with the CDC Vouchers!
AWS MARKET PTE LTD
Yishun Street 22, #01-317, S760294
LASHIKA SRI ENTERPRISES PTE LTD
Yishun Street 22, #01-K1, S760274
CHYE THIAM MARKET PRODUCE SHOP
Gangsa Road, #01-149, S670109
112 MINI MARKET
Pending Road, #01-120, S670112
SB MART (THE BROOKS II)
Springside Green, #01-19, S786015
Update your wardrobe
Wearing new clothes during CNY symbolises a fresh start to the year ahead. Take this opportunity to update your wardrobe for a fraction of the price! Spend your CDC vouchers on new outfits and accessories to look your best this festive season.
IS ME FASHION
2 Bukit Panjang Ring Road, #02-28, S679947
Children's Clothing
104 Yishun Ring Road, #01-12, S7760104
Baoqiong Clothes
21 Marsiling Lane, #01-98, S730021
Apparel Shop
Woodlands Street 31, #01-59, S730305
HUA LI FASHION
Fajar Road, #01-K4, S670445
Get a new year makeover
New year calls for new change! Thinking of getting a new hairstyle, a fresh set of manicure, or just going for a relaxing message before the festivities? You can spend your CDC vouchers at a salon for a new hairstyle or get your nails done. Don't forget to claim your CDC vouchers so you can spend them at participating service providers.
Santorini Hair Spa
Sembawang Crescent, #01-05, S750365
JK2 Hair Beauty Salon 768
Woodlands Avenue 6, #02-08, S730768
Lilian Massage Service
235 Yishun Street 21 Yishun Singapore 760235, #01-454, S760235
Zen Nail Art
258 Bukit Panjang Ring Road, #01-54, S670258
822 Hairdressing (Unisex) Beauty Salon
Sembawang Drive, #01-822, S750406
Spruce up your home
It's time to spring clean and dress up your home for the celebrations. To give your home a fresh look, here are some ideas on what you can spend your CDC vouchers on: bedsheets, cushion covers, plants, "huat" decorations or table linen. You can also take the opportunity to buy new electric hotpot and appliance to spruce up your kitchen. Happy decorating!
Sherlin Florist
20 Marsiling Ln, #20/21, Singapore 730020
Furniture Cubes Pte Ltd
Block 291 Yishun Street 22 #01-361 Singapore (760291)
Home Curtains & Blinds
Woodlands Street 12, #02-37, S738623
Ajits Household & Sundry Trading
Canberra Road, #01-08, S750511
Kah Ho Household & Hardware
Woodlands Drive 44, #02-31, S730548
On top of these businesses, there are many others where you can spend your CDC vouchers. Choose from over 20,000 heartland merchants, hawkers and supermarket outlets!
Hear what some excited merchants and residents have to say for the new CDC Vouchers scheme 2023!
</article> </body> </html>